UPDATED...because I totally forgot the other book I wanted to talk about!!!
This week (okay, okay, it's been a while since I linked up to the book chat...I know!) we're talking about those beloved/dreaded school-assigned books.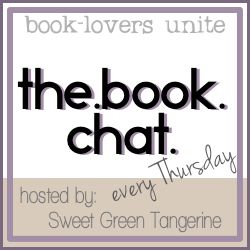 I'm going way back for this one (I spent one year of high school abroad and while I've read most of the books assigned then I didn't read them as assignments and I studied engineering in college so there was no assigned reading that didn't include equations!). One of the school-assigned books that stands out most in my memory is Z for Zacharia by Robert C. O'Brien.
[Image source: Wikipedia]
We read it in about the 8th grade. It stands out for two reasons. One, I think, because it has a very strong, modern, teenage female heroine. I don't remember a character that I could identify with (aside from the post-nuclear-apocalypse setting) so closely. The second reason it stands out to me is that I remember feeling like the only kid who didn't hate/make fun of the book. And it's still (I won't say how many years later because I'm in complete denial about that!) brought up as a joke. I can't say I know why, though. I guess I'll have to ask the next time I hear it mentioned. According to IMDb it is currently being made into a movie.
A book I read somewhat recently was not assigned to me but was assigned to a German colleague in his English class. It's a short book and a fast read called
The Wave
and is the semi-true story by Todd Strasser
under the pen name Morton Rhue (though modern copies are often under Todd Strasser's real name). It is a novelization of a teleplay by Johnny Dawkins for the movie The Wave, a fictionalized account of the "Third Wave" teaching experiment by Ron Jones that took place in a Ellwood P. Cubberley High School history class in Palo Alto, California. The novel by Strasser won the 1981 Massachusetts Book Award for Children's/Young Adult literature. [Source]
Aside from the story, which was fascinating and frightening, I was interested to discuss the events in the book with my German colleague. I had never heard of the book and found it very interesting that it was an assignment in a German school (I can't remember specifically but he either had to read it in high school or university). Germans can be very sensitive about certain historical events...especially those surrounding the holocaust and WWII. Many (even younger people who were born well after the end of WWII) won't discuss it at all. My colleague couldn't believe that, given the horrors that occurred during holocaust, it would be possible for any such sort of movement (involving Jewish persecution or otherwise) could ever happen again, let alone so easily. I wasn't at all surprised. I think it has happened on smaller scales and could all-too-easily happen on a larger scale again.
Note: Apparently it's been made into a movie and can be seen on here on YouTube.
What books did you love or hate that you were assigned to read?